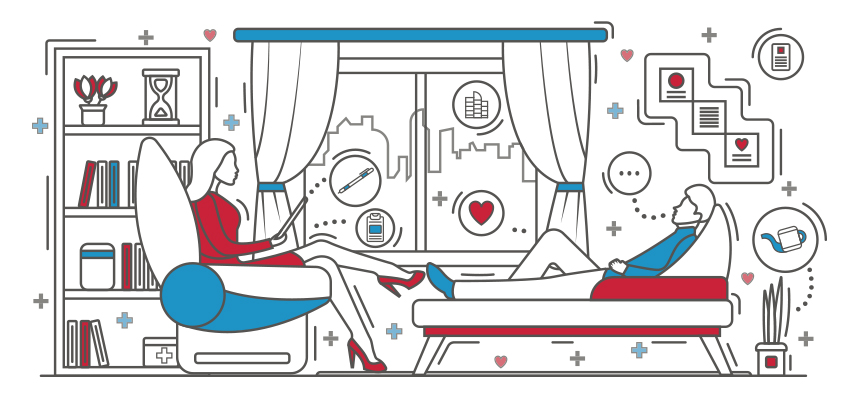 Cognitive Behavioural Therapy – Understanding CBT
Madeline Gilkes

Published:

05 Nov 2017
Cognitive behaviour therapy (CBT) is widely reported as being 'as effective as medication to treat depression and anxiety' (Better Health Channel 2016).
A review by Hofmann et al. (2012) state overall there is strong evidence to support the use of CBT, particularly for 'anxiety disorders, somatoform disorders, bulimia, anger control problems, and general stress.'
What is Cognitive Behaviour Therapy (CBT)?
The psychotherapy, CBT, is used to improve dysfunctional thoughts, feelings and behaviours. CBT aims to impart self-help strategies that can improve the client's quality of life (Better Health Channel 2016).
CBT can be used to alter belief or thought trends, such as those that trigger anxiety. Some people have negative automatic thoughts, and CBT can help the client to challenge and overcome these. Cognitive restructuring can then take place, in which the person reframes their negative thoughts into a more positive perspective (Better Health Channel 2016).
Cognitive Behaviour Therapy Involves:
Assessment (e.g. surveys)
Education (e.g. increased knowledge about the specific client issues to help them challenge and overcome irrational or 'unfounded' feelings and thoughts
Goal setting (e.g. client chooses a goal they wish to focus on between sessions and creates a plan with the therapist to progress towards the goal)
Role-play and skills-practice
Homework or action-plans (e.g. journal entries)
Usually between six and ten sessions
Face-to-face and/or internet sessions/programs
(Better Health Channel 2016)
Another example of a CBT strategy can include asking a person to offer evidence that supports their thoughts, for the purpose of helping the client to understand when they hold a false or irrational belief (Better Health Channel 2016). Evidently, the person can then have an opportunity to challenge or reframe this perception.
Uses of Cognitive Behaviour Therapy
CBT can be used for various psychological conditions, such as (Better Health Channel 2016):
Anxiety
Depression
Social phobia
Obsessive-compulsive disorder (OCD)
Post-traumatic stress disorder (PTSD)
Poor self-esteem
Anger issues
Hypochondria
Misuse of substances such as alcohol
Gambling
Eating disorders
Insomnia
Marital and relationship issues
Some emotional/behavioural problems in children or teenagers (James et al. (2015) in their review, state that CBT is effective for children and adolescents with anxiety disorders, but there is not enough evidence to conclude whether CBT is more successful than active controls, treatment as usual, or medications at follow-up.)
Interestingly, Kew et al.'s (2016) study found that 'CBT may improve the quality of life, asthma control and anxiety levels compared with usual care' for adults that have persistent asthma. It was noted that 'usual care' and the CBT approach of the studies was diverse, and could call for further research in the future (Kew et al. 2016). Additionally, Kew et al. (2016) reported that there is not any evidence at present for using CBT to treat adolescent asthma. Thereby, this is also an area calling for future investigation.
When May CBT Not be the Best Choice?
If the client has a condition (e.g. brain injury) that prevents rational thinking
If the client does not participate actively in treatment (e.g. does not do their homework)
If the client does not like or trust the therapist (it may be better to see a different CBT therapist)
If people are simply looking for 'quick fixes'
There may be other reasons as to why CBT may not be appropriate to the individual, and this may need to be discussed by the client with the therapist and/or medical/health professional (e.g. GP)
(Better Health Channel 2016)
Weston, Hodgekins and Langdon (2016) highlight in their systematic review and meta-analysis that more 'definitive trials' are necessary to evaluate whether CBT is a valid treatment for people that have autism spectrum disorders (ASDs)
Similarly, the systematic review by Michail, Birchwood and Tait (2017) concludes that there is not enough 'robust' evidence to evaluate the effectiveness of CBT for treating social anxiety in people that have psychosis.
Harris et al. (2015) found in their systematic review that there was 'mixed' evidence to support the use of CBT to manage headaches and migraines in adults.
Huguet et al. (2016) convey in their systematic review that there are not enough appropriate CBT or behavioural activation (BA) apps 'from a clinical and legal point of view'. Thereby, testing, accessibility and development of apps for clients with depression needs to be improved by, for example, implementing high quality 'scientific, technological and legal knowledge' (Huguet et al. 2016).
Monticone et al.'s (2015) review suggested that clients with sub-acute neck pain had significant pain relief at short-term follow up from CBT. However, Monticone et al. (2015) also express that more research is needed to understand the long-term risks and benefits of CBT.
[show_more more="Show References" less="Hide References" align="center" color="#808080″]
References
[/show_more]
---
Authors
Madeline Gilkes
Madeline Gilkes focused her research project for her Master's of Healthcare Leadership on Health Coaching for Long-Term Weight Loss in Obese Adults. She also has a Graduate Certificate in Adult & Vocational Education, Graduate Certificate in Aged Care, Bachelor of Nursing, Certificate IV Weight Management and Certificate IV Frontline Management. Madeline is an academic and registered nurse. Her vision is to prevent lifestyle diseases, obesogenic environments, dementia and metabolic syndrome. She has spent the past years in the role of Clinical Facilitator and Clinical Nurse Specialist (Gerontology and Education).