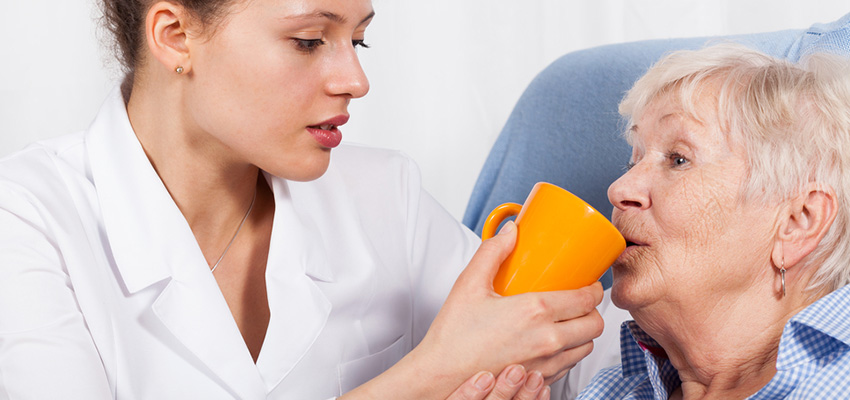 Dysphagia is a common problem seen in many patients who are in the hospital or, more likely, in a long-term care facility. Although other issues can cause trouble swallowing, it is most often seen post stroke. A stroke hampers a person's ability to control the muscle movements of their throat and epiglottis. This makes the person at risk for inhaling both food and liquids. When feeding a person with dysphagia, you have to make sure that you know what types of food they are provided with to prevent this from happening. Aspiration can lead to fatal pneumonia and choking, so it is vital to prevent it. Here are a number of things to consider.
Liquid Thickness
When feeding a dysphagia patient, you have to ensure that you have the correct fluid consistency. Depending on their swallow test (usually performed by a speech therapist), the patient will be given a particular consistency of liquid based on their ability to swallow. This can be anywhere from nectar thick to honey to pudding. Thin and nectar consistency are closer to the consistency of fluid whereas the honey and pudding types are closer to soup.
Some of these fluids come in the desired consistency, but it is possible to make any fluid the correct consistency for a stroke patient. This is done by adding the right amount of fluid thickener to the drink. In this way, a patient could have a cola, if they wanted, at pudding consistency. Unfortunately, many patients do not like the thickened liquids. They often taste funny and don't quench thirst. It isn't uncommon for patients to attempt to coerce their caregivers into giving them plain liquids. Unfortunately, this leads to choking problems and can eventually end up in pneumonia. Lemon ice is a great way to quench the thirst without resorting to thin liquids.
Food Consistency
Like liquids, foods should be a certain consistency as well, depending on the ability of the patient to chew and swallow. Some patients are on normal consistency foods, and they can eat anything that they choose. In some cases, a patient may be on slightly thickened liquids and normal consistency food. The next step up is mechanical soft. This means that the food should not be crunchy, and the servings should be as moist as possible. You should avoid raw vegetables and corn, while encouraging moist and soft foods.
A further step into the consistency paradigm is simply soft foods. This means that the consistency of the foods should be minced, bite-sized, and require as little chewing as possible to process in the mouth and swallow. Finally, pureed food is used for those who require pudding consistency. Everything must be the same texture and require no chewing. Again, many patients do not enjoy eating foods in this manner, and they are often reluctant to eat. In these cases, it takes some clever disguising, use of spices, and patience to get the stroke survivor to take the foods. When coupled with cognitive problems, it can be even more difficult to feed a patient with dysphagia.
Tips for Feeding
Once you are sure you are feeding the correct consistency of foods and liquids, you may need a few further tips on how to feed the patient safely. As mentioned above, lemon ice is often used to aide in swallowing and thirst. It stimulates the swallowing reflex, and you may want to give the patient a scoop of lemon ice following every bite of food. You should also be aware of pouching. This is when the patient holds food in their cheek. Some patients can hold an entire meal in this way, and it is frustrating to work around it. Another way to assist in swallowing is to have the patient tuck their chin to their chest. This can help with certain types of dysphagia and the method will be recommended by the speech therapist.
Some speech therapists recommend stroking the side of a patient's cheek to encourage them to swallow, but it really depends on the cognitive level of your patient. You may have to give them a great deal of time to chew their food and decide to swallow it. For this reason, they may not get the nutrition they need, and supplements become necessary to keep them healthy.
It is important to monitor your patient closely for signs of aspiration such as coughing, gagging, or turning red. This is a medical emergency and should be managed accordingly.
Promoting safety while eating is a key area of nursing responsibility. Not only will it improve the patient's experience of eating but it will also ensure adequate nutrition is delivered to patients.
[Tweet "It's essential that a nurse ensures adequate nutrition is delivered to patients with dysphagia #FOAMed http://aus.md/fpd"]
Author
Lynda is a registered nurse with three years experience on a busy surgical floor in a city hospital. She graduated with an Associates degree in Nursing from Mercyhurst College Northeast in 2007 and lives in Erie, Pennsylvania in the United States. In her work, she took care of patients post operatively from open heart surgery, immediately post-operatively from gastric bypass, gastric banding surgery and post abdominal surgery. She also dealt with patient populations that experienced active chest pain, congestive heart failure, end stage renal disease, uncontrolled diabetes and a variety of other chronic, mental and surgical conditions.