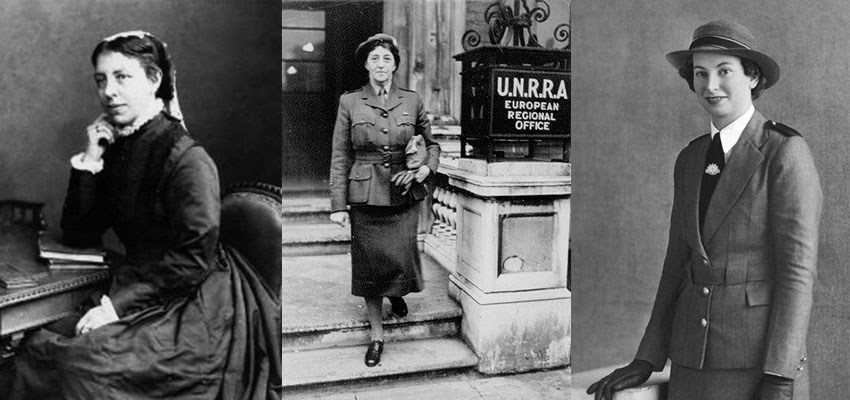 This article has been archived and is no longer being actively maintained for accuracy.
It was Florence Nightingales birthday on the 12th of May and nurses celebrated all over the world with International Nurses Day. Most nurses know Florence's story: how she desperately wanted to be a nurse and how she fought so hard to make nursing respectable. They also know how she influenced the mortality rates in the Crimean war and used her social position and contacts to lobby for better hospital conditions for the wounded soldiers.
Nightingale's influence spread to the colonies when Lucy Osburn, a Nightingale trained nurse came to Australia in 1868 at the behest of Sir Henry Parkes with five other "Nightingale" trained nurses to set up a training school based at Sydney Hospital. Lucy also came from a very interesting family, her father was an Egyptologist and a social reformer and Lucy was influenced by his writings and research (Godden 2006). Lucy had spent some time with her father in the Middle East and Egypt and was quite adept at breaking in Arab horses on the Syrian plains (Godden J 2006). It took someone with her spirit to take on the task of setting up the first secular nursing school in Sydney. Judith Goddens' excellent book, "Lucy Osburn, a Lady Displaced," is an excellent expose of Ms Osburn's time in the fledgling colony.
Lucy's time at Sydney hospital was not without controversy. She felt socially isolated and struggled with the difficult working conditions under the resident surgeon, Alfred Roberts (1823-1898). Eventually Lucy fell out with Florence Nightingale, who thought Lucy was not adhering to Nightingale standards in her practices. Lucy faced constant criticism from surgeon Roberts and ended up resigning from her position in 1884. In her time at Sydney hospital she had successfully trained many Nightingale nurses and established the Nightingale focus of cleanliness, sanitation and fresh air and adequate food.
Australian nurses have always responded to societal needs and during World War One and World War Two, Australian Nurses worked in Europe helping to care for the wounded in courageous and difficult situations. Muriel Knox Doherty was an Australian nurse who responded to the need for nurses in Europe in 1939. Towards the end of the war she worked with the United Nations and was appointed as Matron of Bergen-Belsen Concentration camp in Germany where she supervised the care of the concentration care survivors after liberation. Her book, "Letters from Belsen," gives a harrowing depiction of the conditions from inside the camp (Doherty Muriel Knox 2001).
Another Australian nurse Vivian Bullwinkel came to prominence after she survived the Bangka Island Massacre and spent three and a half years as a prisoner of war before the war ended. Vivian refused to be a victim and went on to positively influence nursing until she died in 2000 (Manners N 2000).
[show_more more="Show References" less="Hide References" align="center" color="#808080″]
References
Doherty, MK 2001, Letters from Belsen 1945, Sydney, Allen and Unwin
Godden, J 2006, Lucy Osburn, a lady displaced, Sydney, Sydney University Press
Manners, NG 2000, Bullwinkel; the true story of Vivian Bullwinkel, Perth, Hesperian Press
[/show_more]
Author
Toni Hoffman Visit
Toni Hoffman AM is an Australian Nurse now teaching at Central Queensland University. She first "trained" at Princess Alexandra Hospital in Brisbane before studying Midwifery and Intensive Care Nursing in the UK. She has worked in Australia, the UK and in Saudi Arabia. In 2000 she moved to Bundaberg to be the NUM of the Bundaberg Intensive Care Unit. In 2003 she completed a Masters in Bioethics and a Grad Cert in Management. In 2003 she found herself embroiled in one of Australia's worst medical scandals. For her part in protecting her patients' safety she was awarded Australian of the Year Local Hero 2006, A Member of the Order of Australia for services to Nursing and the Pride of Australia medal for Courage. She also has a Batchelor of Nursing.