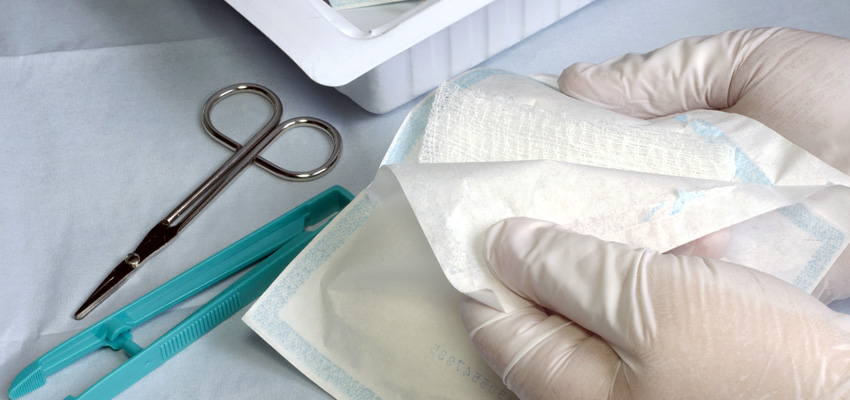 Part One of a series on wound care – written By Jan Rice
Introduction
When faced with a complex wound, many first time or novice clinicians will ask, "what dressing should I use?"
An aspect of wound management often overlooked is defining the wound itself. The guiding principles of wound management have always been focused around defining the wound, identifying any associated factors that may influence the healing process, then selecting the appropriate wound dressing or treatment device to meet the aim and aid the healing process. This structured approach is essential, as the most common error in wound management is rushing in to select the latest and greatest new wound dressings without actually giving thought to wound aetiology, tissue type and immediate aim.
This brief overview of wounds and dressings will identify some of the most common wound types and guide you in setting your aim of care and selecting a product or device to achieve that aim.
H.E.I.D.I. Holistic Assessment
The first thing to do before addressing any wound, is to perform an overall assessment of the patient. An acronym used to guide this process, step by step, is H.E.I.D.I.:
History
Medical, surgical, pharmacological, social
Examination
The patient as a whole, then focus on the wound
Investigations
What bloods, x-rays, scans do you require to help you make your…
Diagnosis
Implementation
Of plan of care
So with this in mind and having completed a thorough overall assessment, the wound assessment can now be conducted.
Wound Assessment
The parameters to consider in wound assessment include:
Tissue type
Wound exudate (type, volume and consistency)
Periwound condition (this is the area that extends four centimetres from the edge of the wound)
Pain level (at dressing changes, intermittently or consistently)
Size (length, width and depth)
Tissue Types
Descriptors used to identify the tissue found in wounds are:
Necrotic eschar
Necrotic slough
Infective
Granulation
Hypergranulation
Poor quality granulation
Epithelium
Macerated
Once the types of tissue/s have been identified, the aim of treatment can be considered. Without a doubt, removal of necrotic tissue and management of infective tissue are two priorities in wound management.
Necrotic Tissue
Ideally the quickest (and often safest) way to remove necrotic tissue is to involve a surgeon, who will then surgically debride the offending tissue. If this is not possible, then a skilled clinician may be able to conservatively sharp debride the tissue to just above the viable base. If this is not possible then dressings known to aid autolytic debridement should be selected and used according to manufacturer's instructions.
Infective Tissue
Infective tissue is best removed when possible, so the above methods may be employed. Antibiotics need to be prescribed when the wound is causing systemic infection. However, if the wound is locally infected or critically colonised, the clinician may choose to manage the infective tissue with debridement and topical antimicrobials (not topical antibiotics). Another consideration if colonisation is of concern, is to use generalised body skin-antiseptic cleansers to reduce the possibility of bacteria colonising from one area to another.
Granulation Tissue
Granulation tissue – firm, beefy red tissue – requires some exudate management and protection. A dressing that maintains a minimally moist environment and protects the tissue, is generally required.
Hypergranulation
This soft, gelatinous, highly exuding tissue requires specific treatment. Some clinicians believe the use of silver nitrate – burning the tissue back – is the best option. It has been my experience that an approach to bacterial load, direct pressure and dressings that will manage moisture are more acceptable.
Poor Quality Granulation
The term used to describe pale, grey/brown/red granulation tissue. The general approach is to use an antimicrobial and exudate-management dressing.
Epithelium
the pale, pink/mauve tissue usually found at the edges of wounds, healing by secondary intention, requires protection. This tissue responds poorly to too much moisture and in most cases, using a dressing that protects this tissue from the effects of moisture, is used. The use of barrier agents ensures this protection.
With this information it is now time to look at the approach taken to specific wound types.
Continues in Part Two: Wound Care – Surgical Wounds, Abrasions, Lacerations
[show_more more="Show References" less="Hide References" align="center" color="#808080″]
Further Reading
Dowsett, C, Protz, K, Drouard-Segard, M & Harding, K 2015, 'Triangle of Wound Assessment Made Easy', Wounds International, London, UK, viewed 3 August 2016, www.woundsinternational.com
European Wound Management Association 2016, 'EMWA Position Documents (2002-2008)', EWMA, Denmark, viewed 3 August 2016, ewma.org
Leaper, DJ, Schultz, G, Carville, K, Fletcher, J, Swanson, T & Drake, R 2012, 'Extending the TIME concept: what have we learned in the past 10 years?', International Wound Journal, vol. 9, no. 2, pp. 1-19, viewed 3 August 2016, www.woundinfection-institute.com
Vowden, K & Vowden, P 2002, 'Wound Bed Preparation', World Wide Wounds, UK, viewed 3 August 2016, www.worldwidewounds.com
Wounds International 2016, Best Practice, London, UK, viewed 3 August 2016, www.woundsinternational.com
[/show_more]
Author
Jan Rice is a Registered Nurse with many years of experience in surgical nursing. Jan is a member of the Venous Leg Ulcer Guideline Implementation sub-committee and the Pressure Injury Guidelines Development sub-committee. Jan obtained a Masters in Wound Care in 2009 and runs a wound clinic in a large Metropolitan General Practice — Ashwood Medical. Through her own business, Jan has been acting as a consultant to over 80 aged care facilities and a resource for Divisions of General Practice and surgeons within Victoria. Jan is an author of a book chapter on wound healing and has been a volunteer with Interplast since 1983. In 2006, she was awarded Fellowship to the Australian Wound Management Association.