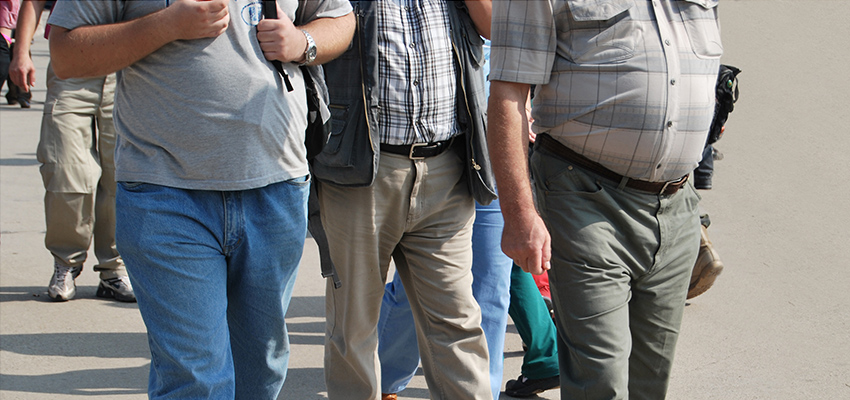 Bariatric Surgery – Laparoscopic Adjustable Gastric Band
Claire Noonan

Published:

04 Feb 2016
The incidence of obesity is increasing in Australia, and is having a substantial impact on morbidity and mortality. Health effects of obesity are substantial, and include an increased risk of:
Ischaemic heart disease
Stroke
Type 2 diabetes
Sleep apnoea
Osteoarthritis
Some cancers
High cholesterol
Hypertension.
As a result of lifestyle changes, some people manage to lose weight. However maintaining the result is difficult. In response to weight loss their body may experience increased hunger, reduced metabolic rate and other hormonal changes that favour weight regain. Thus, for many, weight loss subsequently leads to weight regain.
Obesity and Bariatric Surgery
Bariatric surgery is a treatment option for those with morbid obesity or obesity with secondary medical issues, and who are unable to achieve or maintain a weight-loss result through lifestyle measures alone. Bariatric surgery works by reducing the volume of food consumed, and/or the absorption of energy and nutrients. The operations are not a quick-fix, rather they are a tool to help people achieve the necessary dietary changes to enable sustained weight loss.
Good food choices are still vital. Weight regain after bariatric surgery is possible, especially if high energy 'junk' foods are consumed. Psychological support may also be required to address binge eating, comfort eating and other forms of non-hungry eating. If these problems are present but not addressed, then the patient may achieve a suboptimal result.
The most common bariatric procedures performed in Australia are gastric banding, sleeve gastrectomy and the Roux-en-Y gastric bypass. These are usually done laparoscopically. Various factors determine which procedure is appropriate for each patient.
All of the bariatric procedures require lifelong follow-up, which may include nutritional counselling and monitoring for vitamin and mineral deficiencies.
Laparoscopic Adjustable Gastric (Lap) Band (LAGB)
In this keyhole procedure, a band is placed around the top section of the patient's stomach and connects to a port secured to the anterior of the abdominal wall. During follow-up visits, the doctor can access the port using a huber-tipped needle. Fluid can then be withdrawn or added, to loosen or tighten the band.
Following the operation, patients commence with a fluid diet, then as recovery progresses they switch to purees, then mash-consistency foods and finally solid food. If a patient's band is too loose, they can feel hungry a lot of the time and eat larger portions without feeling satisfied.
A band that is too tight can lead to discomfort, regurgitation and heartburn. Sometimes people can put on weight despite an over-tight band, if, being unable to tolerate solids, they opt for higher calorie soft foods and liquids.
Patients with a gastric band learn to eat small mouthfuls (using an oyster-fork or a teaspoon is helpful), chew thoroughly, and to pause between mouthfuls. This reduces the chance of food getting caught in the band opening and being regurgitated. Eating in this way, patients with a well-adjusted band can eat most types of food.
Gastric banding is reversible and is the safest of the bariatric procedures, however complications can occur that necessitate revision or removal of the device, or replacement of the port. Potential complications include the band slipping out of position, or the port flipping over.
The procedure is quite successful; average weight loss with a gastric band is 50-60% of the starting excess weight over the first two years.
For further information, visit the Obesity Surgery Society of Australia and New Zealand website (www.ossanz.com.au). Sleeve gastrectomy and gastric bypass surgery will be covered In Part II of this article.
[show_more more="Show References" less="Hide References" align="center" color="#808080″]
References:
Royal Australasian College of Surgeons position statement: 'Reducing the burden of obesity,' June 2015; https://www.surgeons.org/me[…]df.
E. Blomain, D. Drihan, M. Valentino, G. Kim and S. Waldman; 'Mechanisms of Weight Regain following Weight Loss'; Obesity 2013 Review Article.
Christopher N. Ochner, Dulce M. Barrios, Clement D. Lee, and F. Xavier Pi-Sunyer; 'Biological Mechanisms that Promote Weight Regain Following Weight Loss in Obese Humans'; NIH Public Access Version (Author manuscript) of Physiol Behav. 2013 August 15; 106–113.
Obesity Surgery Society of Australia and New Zealand; http://www.ossanz.com.au; Obesity- Surgical options; 7/12/15.
UpToDate; bariatric procedures for the management of severe obesity: descriptions; www.uptodate.com; reviewed 1/10/15, accessed 9/12/15.
The author has no financial conflicts of interest to declare.
[/show_more]
---
Authors
Claire Noonan
Claire Noonan is a GP based in regional NSW with special interests including mental health and bariatric medicine. As well as general practice, Claire conducts follow-up visits for patients who have had a bariatric procedure. This role comprises nutritional and psychological counselling as well as performing gastric band adjustments. Claire is a keen advocate for her patients. She is passionate about educating the wider community about health science as well as dispelling common myths about obesity and mental health conditions. Her qualifications include an honours degree in Medical Science majoring in neuroscience, a medical degree, fellowship of the RACGP and an associate diploma in piano.