Urinary tract infections (UTI) are the most common hospital acquired infection affecting individuals today.
75% of hospital acquired UTIs are associated with the use of an indwelling urinary catheter (IDC) which is a significant number, considering that there is a 15-25% chance of a hospitalised patient needing a catheter inserted at some point during their stay (CDC 2015). These infections, due to their aetiology, are commonly referred to as catheter associated urinary tract infections or CAUTI.
IDCs can be associated with many negative outcomes for the patient, and in addition to potentially developing an infection, the patient can also experience urethral strictures, mechanical trauma, nonbacterial urethral inflammation and impaired mobility. CAUTIs has also been found to result in an increased length of stay in hospital for the patient, and there has also been links with CAUTIs and an increased risk in mortality for the individual (Lo et al. 2014).
This increased risk of mortality may be linked to the fact that CAUTIs have been found to be one of the most common causes of secondary bloodstream infections that occur in acute care hospitals. And, when we look at patients in long term care facilities, the numbers may shock you. Patients with IDCs in situ in long term care facilities are between 3 and 36 times more likely to have bacteriuria present than those without catheters (Nicolle 2014).
Symptoms of CAUTI
It can be difficult to detect CAUTIs as the symptoms of infection can be absent due to the catheter being in situ, so the patient wouldn't know if they were experiencing symptoms of a UTI, such as urinary urgency or a burning sensation on voiding. CAUTIs can also be difficult to recognise because of other co-morbidities present in the patient, and even more so if the patient has a decreased ability to communicate due to illness or age (Lo et al. 2014).
Generally the most common clinical presentation when the patient has a CAUTI is the presence of a fever as well as a positive urine culture result. Other signs or symptoms can include catheter obstruction, haematuria, recent trauma and suprapubic pain, however these symptoms are only present in a minority of people with a CAUTI. It is important to acknowledge that many patients who have bacteraemia present often do not develop an associated symptomatic infection (Lo et al. 2014; Nicolle 2014).
How to Prevent CAUTI
The focus on CAUTIs is on prevention. If the risk of infection increases with the use of an IDC, then we can minimise catheter use on patients.When catheters are necessary, they should be removed as soon as possible.
By lowering the causative factor of the infections, we are decreasing the rate of infections occurring. It has been found that for each day a catheter remains in, the patients risk of acquiring a CAUTI increases by 7% (Gould 2017; Lo et al. 2014).
This increased risk from prolonging the duration of the use of the IDC in a patient can be attributed to the development of a biofilm on the catheter. As with any device with the potential to develop a biofilm, the longer the devices stay in the person, the longer the biofilm will be in place and be a harbour for potential microorganism growth.
Biofilm is a complex material and consists of many microorganisms growing on the surface of the object. In the case of a catheter, the biofilm will not only be present on the outside of the catheter, it will also be present on the inside of the tubing. And this biofilm formation will begin immediately after insertion of the catheter, hence the focus to remove the catheter as soon as it is no longer needed (Nicolle 2014).
It is also important to recognise those who are at a high risk of developing a CAUTI. The population with an increased risk includes women, the elderly and patients with impaired immunity. In these population groups we need to ensure that we minimise both catheter use and catheter duration to help decrease their risk of developing a CAUTI (Gould 2009).
An IDC should not be used on patients for a prolonged period of time without the appropriate indications for use or as a substitute for nursing care on a patient with incontinence. Generally, catheters should be used in the following situations:
Acute urinary retention
Bladder outlet obstruction
When there is a need for accurate measurements of urinary output in critically ill patients
Perioperative use for specific surgical procedures (such as urological surgery, prolonged duration of surgery, patients receiving large volume infusions or if there is a need for intra-operative monitoring or urinary output)
To assist in the healing of wounds in the sacral or perineal area in incontinent patients
When patients may require long periods of immobilisation (such as if they have traumatic injuries like pelvic fractures)
To improve end of life care if required
(Gould 2017)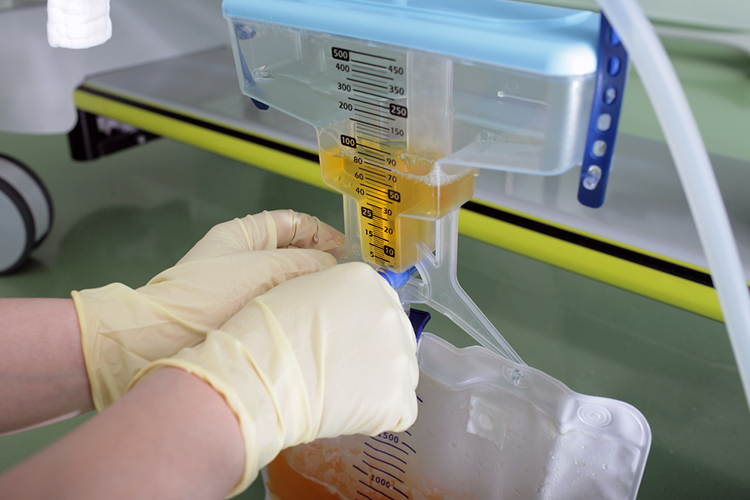 Nursing Considerations
Prevention of CAUTIs also relies on the provision of appropriate nursing care. This can be in both ensuring the use of proper techniques for both insertion of the catheter and also the ongoing maintenance of the catheter.
Only trained practitioners should be inserting IDCs and this should be done using an aseptic technique and sterile equipment. The catheter size should be chosen to ensure the smallest gauge catheter is used that the patient requires. It is also important to note that infections risks are similar with both latex and silicone based catheters. After insertion of the IDC, it should be maintained as a closed drainage system and if there is a disconnection, replacement of the items should occur (Gould 2017; Nicolle 2014).
It is also important that nurses ensure that the catheter remains free from any kinks and that the collecting bag remains below the level of the bladder at all times to maintain unobstructed urine flow which will also help to prevent infections (Gould 2017).
IDC management should also include ensuring the catheter is properly secured in order to prevent movement and urethral traction. The collection bag should also be emptied regularly with the nurse avoiding touching the draining spigot to the collecting container.
It is also important to note, that the drainage bag of a patient with a CAUTI can act as a reservoir for organisms. These can then be transmitted to other patients through the hands of healthcare personnel and outbreaks of infections that are associated with resistant gram-negative organisms that are attributable to bacteriuria in patients with catheters have been reported (Lo et al. 2014).
Maintaining perineal hygiene is also important with the patient with an IDC. This can be done during the patients regular shower, and if your patient does not require assistance with showering, education is essential to ensure they are cleaning this area (Gould 2017).
The main consideration with nursing care is based on the main principle relating to treatment of CAUTIs which is prevention. If the IDC is not clinically indicated, we should not be inserting it, and if it is no longer needed, it's time to remove it.
References
Author
Sally Moyle is a rehabilitation nurse educator who has completed her masters of nursing (clinical nursing and teaching). She is passionate about education in nursing so that we can become the best nurses possible. Sally has experience in many nursing sectors including rehabilitation, medical, orthopaedic, neurosurgical, day surgery, emergency, aged care, and general surgery. See Educator Profile
It's not done until it's documented