How easy is it for you to sit and speak honestly and openly with your colleagues?
What are the factors that get in the way of doing this? Is open communication encouraged in your workplace? How do the students and newly qualified nurses find it?
Time restraints, a busy environment, finding a suitable place and privacy (if necessary), or even your own personal reservations, could be affecting healthy communication amongst your team.
You don't all have to be best friends, but knowing how to support each other and checking in on your colleagues, especially if they are 'not themselves', can make a world of difference - particularly in the high-stress, high-pressure environment that we work in, where self-care often falls by the wayside. Nurses and healthcare workers are prone to burnout and may face challenges that no other profession faces.
Team Time
'Team time' can cover a variety of situations, but broadly aims to routinely provide time for teams to come together and help everyone strive towards or achieve a common goal. This could be a particular professional workplace goal, or simply ensuring that your entire team is leaving work safely.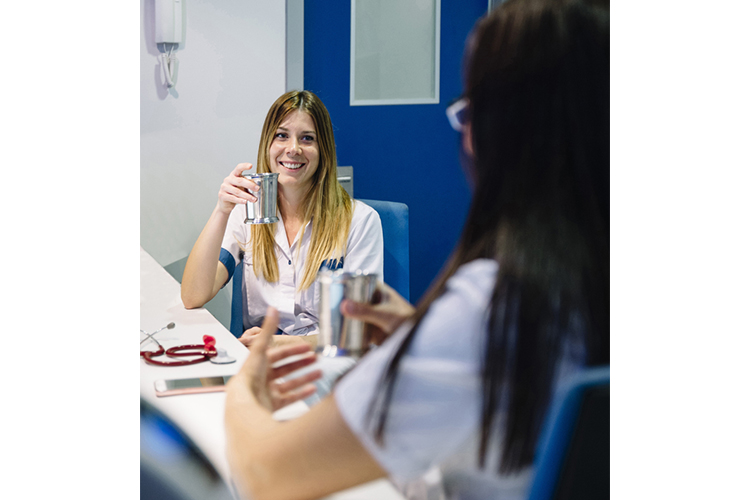 Your 'team time' should become a priority - whether it is during work time, at the start or end of a shift, at an allocated time each week or month, or even in a casual capacity outside of work. A variety of formats can help to keep your 'team time' casual and relaxing. It should not be seen as another meeting - the aim is to reach and engage as many staff members as possible, and as we are all very unique individuals, everybody's needs should be taken into account.
Your team should come together regularly to discuss anything and everything staff want to address, without judgement. Consider adopting new and old ways of working, or innovations to enhance the work environment to help ease the pressure. Consider the different experience levels of your team and how each may respond to stress. Encourage people to ask for help.
Moments like these are a great opportunity to remind everyone of the resources that are available to them when they need help, and not just on a personal level. Professional knowledge such as leadership, emotional intelligence, assertiveness, team working techniques and business strategies can be shared. The healthcare team is a gold mine of knowledge and sharing these ideas should be encouraged.
Managers and establishments should encourage healthy communication at each level of the business. There are benefits to be gained throughout, from staff in all roles to the organisation as a whole.
Nursing is constantly changing - we have seen recent increases in the number of ENs, and that extra support network is needed to address varying levels of experience.
Nursing is so diverse and keeping sight of the reasons you first entered the profession will help keep you grounded. Support each other to keep the passion and the patient-centred goals we were trained to deliver. My previous articles (Nursing and Change – an Open Letter to Management and Is Nursing on the Right Path? A Nurse Reflects – 'Can I do it?') prompted a lot of comments from those who had left or considered leaving the profession. Their decisions would not have been made lightly and I am sure they struggled with them, and ultimately did what was best for them.
I consider myself so lucky to have worked with and to know some truly inspirational nurses who are part of my support network. It's easy to write about it, but hard sometimes to put in to practice. Nursing can be a roller coaster of mixed emotions, even in just one shift.
If at a crossroads: seek help, as others may be in the same boat too. With honest and open communication, you can work through it together - or, they could help to point you in a new direction.