Sorry, this course has expired and is no longer available.
Reason for expiry: A newer, more in-depth article on this topic is now available. See replacement link.. For an alternative resource, we suggest you take a look at
the recommended resource
Today, World Health Day, it is important to consider what the greatest health issues are at a global scale, and not just in our own backyard.
A key issue being raised by the World Health Organisation (WHO) is depression (2017a).
WHO explains that there has been an 18% increase in the amount of people living with depression from 2005 to 2015. This condition is the largest contributor to disability in the world and about 80% of depression's burden is in low and middle income nations (2017a).
Depression is preventable and treatable and WHO's Depression: Let's Talk campaign will be running for one year following October 10th, 2016 (which was World Mental Health Day).
As a health professional, you are likely well-aware of the range of negative impacts that depression can have upon people of all ages, and their loved ones. But, did you know that, unfortunately, suicide is the second leading cause of death for people aged 15 to 29 years of age? (WHO 2017b)
Some of the aims of the Depression: Let's Talk campaign are to create better public awareness of depression and its signs, as well as where to seek help, and helping to provide support for families and friends (WHO 2017b).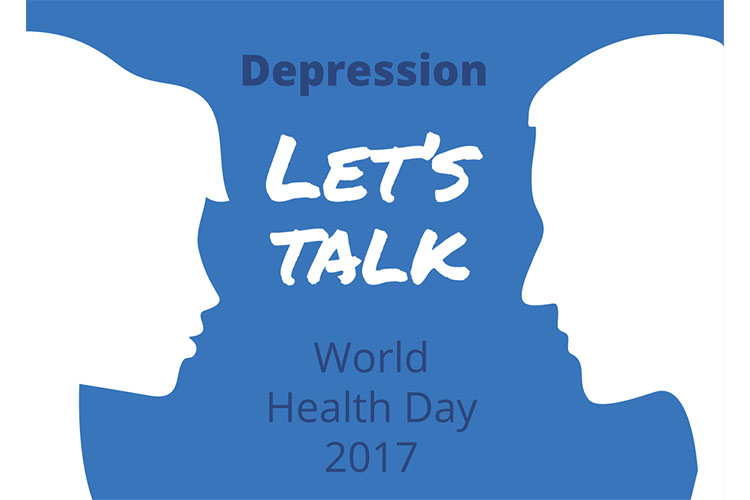 Signs of Depression Can Include:
Changes to sleeping patterns
Anxiety
Appetite changes
Difficulty concentrating
Restlessness
Indecisiveness
Worthlessness
Guilt
Hopelessness
Thoughts of self-harm or suicide
Lack of energy
(WHO 2017b)
This World Health Day, Let's Get Talking About Depression
One of the global barriers to people seeking help is the stigma surrounding depression and mental illness. WHO's focus is on 'three groups that are disproportionally affected: adolescents and young adults, women of childbearing age (particularly following childbirth), and older adults (over 60s)' (2017b).
Key Messages:
Depression is a common mental disorder
Depression can affect people of all ages, from all countries
Increased risks for depression include: poverty, unemployment, life events (e.g. divorce), physical illness, alcohol and drugs
Depression can greatly interfere with an individual's ability to complete activities of daily living
Depression can be prevented and treated
Depression can lead to suicide
Some treatments include antidepressant medication(s) and/or counselling/talking therapies
Many countries provide little support to people with depression and mental health disorders
'Even in high-income countries, nearly 50% of people with depression do not get treatment'
'Depression and anxiety disorders cost the global economy more than US$ 1 trillion each year'
(WHO 2017b)
You can head to www.who.Int/depression/en to access WHO's Depression: Let's Talk campaign materials. This may be useful for promoting health in your workplace or community settings. There are handouts covering various topics, such as 'worried that your child is depressed?' or 'staying positive and preventing depression as you get older' (WHO 2017b). WHO encourages you to:
'…think about where campaign materials can be made available to reach people for whom they are intended. A few ideas are: health-care centres, doctors' surgeries, clinics, hospitals, schools, colleges and universities, supermarkets, leisure and social clubs, associations, places of work, places of worship, and public transport.'
(WHO 2017b)
Further Global Health Concerns
A different global concern at the moment is cancer, which reportedly leads to 8.2 million fatalities each year (CDC 2017).
Over half of the cases of cancer globally are in places with limited resources (CDC 2017). New cancer cases are expected to increase by a massive 70% globally, in the next 20 years (CDC 2017). Cancer surveillance across the world is uneven, fluctuating from almost 100% of the population being covered by registries in North America, to just 2% in Africa (CDC 2017).
'The global burden of cancer continues to increase largely because of the ageing and growth of the world population alongside an increasing adoption of cancer-causing behaviours, particularly smoking, in economically developing countries.'
(Jemal et al, 2011).
In 2011, Jemal et al. reported that for women, breast cancer is the most frequently diagnosed cancer and main source of cancer deaths for women. Further research appears needed for various major cancers, such as colorectal and that of the prostate (2011). Health professionals could help to reduce the global cancer burden via promoting healthy eating, physical activity, no tobacco smoking, and liver and cervical cancer vaccinations.
WHO's global factsheet reports the following interesting points:
Between 1990 and 2012, the global life expectancy rate increased by about 6 years, meaning that a baby born in 2012 can expect to live to age 62 in low-income nations or 79 years in high-income nations
Did you know that each year sadly 6.6 million children under 5 years of age die and, that 'almost all of these children's lives could be saved if they had access to simple and affordable interventions such as exclusive breastfeeding, inexpensive vaccines and medication, clean water and sanitation'
About 10% of babies are born pre-term (before week 37)
Cardiovascular disease (CVD) contributes to 30% of global deaths; this number could be greatly reduced if people adopted healthy lifestyles (e.g. stopped smoking, improved diet)
'Every day, about 800 women die due to complications of pregnancy and childbirth'
Over 600,000 people die each year as a result of second-hand smoke!
10% of adults globally have diabetes
3500 people die in crashes daily on roads or in traffic
(2014)
There are plenty of aspects of health that we need to be aware of as health professionals and global citizens. But, before this article concludes, consider a few great achievements:
Babies born in 1955 were only expected to live until age 48 (CDC 2011)! As earlier mentioned, WHO (2014) expects babies born in 2012 will live to an age of 70 years on average
'From 77 deaths per 1,000 live births in 2000, the child mortality rate declined to 62 per 1,000 in 2009' (CDC 2011)
Health organisations such as WHO and the CDC are monitoring global health trends and creating suggestions for improving health outcomes into the future
Health professionals, of whom may include you reading this article right now, are engaging in evidence-based practice, competency training, clinical governance, and continued professional development activities that may further advance health outcomes, health promotion/education and quality health services for the future!
[show_more more="Show References" less="Hide References" align="center" color="#808080″]
References
Centres for Disease Control and Prevention 2017, Cost of Cancer Registration in Limited Resource Settings, CDC, Atlanta, GA, viewed 6 April 2017, https://www.cdc.gov/globalhealth/stories/cost-of-cancer-registration.htm
Centres for Disease Control and Prevention 2011, Ten great public health achievements – worldwide, 2001-2010, CDC, Atlanta, GA, viewed 6 April 2017, https://www.cdc.gov/mmwr/preview/mmwrhtml/mm6024a4.htm
Jemal, A, Bray, F, Center, MM, Ferlay, J, Ward, E & Forman, D 2011, 'Global cancer statistics', CA: A Cancer Journal for Clinicians, vol. 61, no. 2, pp. 69-90, viewed 6 April 2017, http://onlinelibrary.wiley.com/doi/10.3322/caac.20107/full
Shah, A 2011, 'Global Health Overview', Global Issues, 22 September, viewed 6 April 2017, http://www.globalissues.org/article/588/global-health-overview
World Health Organisation 2017a, World Health Day April 7th, WHO, Geneva, viewed 6 April 2017, http://www.who.int/campaigns/world-health-day/2017/en/
World Health Organisation 2017b, Depression: Let's Talk. Campaign Essentials, WHO, Geneva, viewed 6 April 2017, www.who.Int/depression/en
World Health Organisation 2014, 10 facts on the state of global health, WHO, Geneva, viewed 6 April 2017, http://www.who.int/features/factfiles/global_burden/en/
[/show_more]