Sorry, this course has expired and is no longer available.
Reason for expiry: This article contains outdated information and has been replaced with a more up-to-date module.. For an alternative resource, we suggest you take a look at
the recommended resource
The following article is a quick refresher on injection sites in preparation for the upcoming vaccination administrations for the flu season, based on government information sources.
For more information, refer to the prequel article, Flu Vaccination Season – Recap and Resources for Nurses, which quickly recaps: what the 'flu' is; flu signs and complications; and, some sources of e-learning and vaccination administration information.
Skin Preparation – Do We Need to Alcohol Swab the Area?
The Department of Health (2017) states that:
'Provided the skin is visibly clean, there is no need to wipe it with an antiseptic (e.g. alcohol wipe). If the immunisation service provider decides to clean the skin, or if the skin is visibly not clean, alcohol and other disinfecting agents must be allowed to dry before vaccine injection (to prevent inactivation of live vaccines and to reduce the likelihood of irritation at the injection site).'
Always check what your organisational policies and procedures are, as they may require you to swab the skin. Completely let the skin dry before administering the vaccination if you do need to or choose to swab the skin.
Does Distraction Actually Help When Giving Vaccines?
The Department of Health (2017) highlights that 'the routine use of distraction, relaxation and other measures have been shown to reduce distress and pain following vaccination in young children'. Additionally, comforting or distracting younger children with the following may help: breastfeeding; swaddling; music; bubbles; rattles; and blowing windmills.
What about adult clients that are distressed, agitated or anxious? Evidently, clients may become stressed, upset, or even aggressive due to different factors. For example, a person that has dementia may react to the pain of the injection when receiving a flu vaccination.
It is important to utilise the least restrictive approach or environment, and to always promote person-centred care, respect, dignity, empathy and safety.
Bendigo Health (n. d.) conveys that there are a variety of alternatives available to restraints, and some that may be useful in clinical settings include:
Using a calm voice
Soothing music
Reminiscence
Reducing noise levels
Falls prevention methods such as non-slip mats
Validation
And of course a clear explanation of the procedure and expected outcomes prior to administering the vaccination
The full list can be located at Bendigo Health: Alternatives to Restraint
What Else can be Done to Prevent Discomfort with Injections?
Other techniques for reducing discomfort from injections include administering sweet-tasting fluid orally immediately before the injection (with parental consent) (Department of Health 2017). 'In infants, 15–25% sucrose drops have been used… Topical anaesthetics, such as EMLA, are not recommended for routine use, but could be considered in a child with excessive fear or dislike of needles; they require application 30 to 60 minutes before an injection… Topical lignocaine/prilocaine is not recommended for children less than 6 months of age due to the risk of methaemoglobinaemia' (Department of Health 2017).
Vapocoolant sprays have also been suggested as an alternative, to be utilised 15 seconds prior to vaccination. This is more likely to be effective in adults rather than children.
Which Sites are Recommended for Giving Intramuscular (IM) Vaccinations/Injections?
Vastus Lateralis Site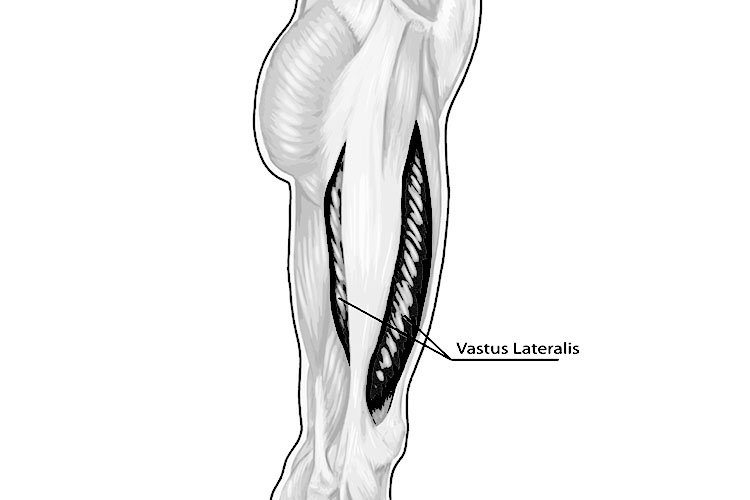 Deltoid Site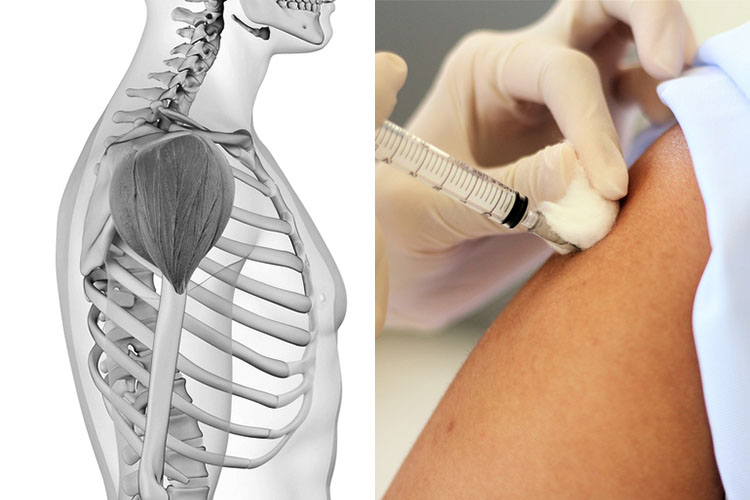 Ventrogluteal Site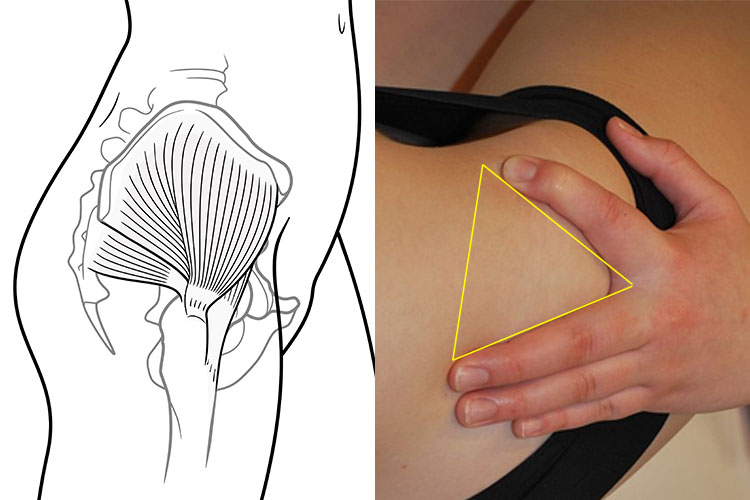 The age of your patient/client may determine which site is used:
Infants under 12 months of age: vastus lateralis is recommended due to large muscle size. (The deltoid is NOT recommended. If an alternative to the vastus lateralis needs to be used, the ventrogluteal site is an option if:

'Vaccine providers who choose to use this site are familiar with the landmarks used to identify it. The reactogenicity and immunogenicity of vaccines given in this site are comparable to those of vaccines given in the anterolateral thigh'

Children >12 months old: deltoid muscle is recommended
For children >12 months of age, adolescents and adults: the ventrogluteal site or vastus lateralis are acceptable alternative injection sites for vaccines provided that the nurse is competent with the landmarks for the ventrogluteal site, and less locally reactogenic vaccines are the ones given in the vastus lateralis
Adolescents and adults: the deltoid muscle is the recommended site
Patients undergoing breast cancer treatment or with lymphoedema: avoid giving the injections or vaccinations in the affected arm; this is to prevent injection-related swelling that could lead to or worsen lymphoedema. Alternative injection sites such as the vastus lateralis or the non-affected arm are instead recommended
(Department of Health 2017)
What is the Recommended Technique for IM Vaccinations/Injections?
90 degree angle to the skin plane
Preterm babies up to the age of 2 months old, and/or very small infants are recommended to have IM vaccines via a 23 or 25 gauge needle that is 16mm in length
Infants, children and adults should have a 23 or 25 gauge needle used with 25mm length injected slowly over at least 5 seconds to 'avoid injection pain and muscle trauma'
Obese adults should have a 23 or 25 gauge needle used with a needle length of 38mm
(Department of Health 2017)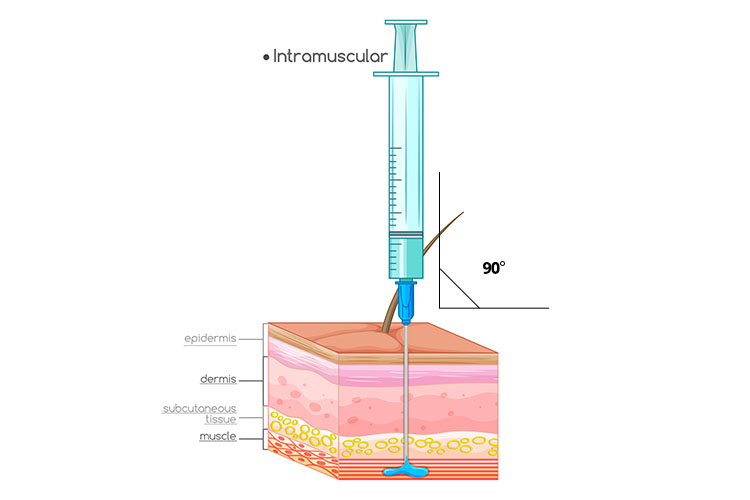 Multiple Vaccine Administration
Multiple vaccines in infants <12 months of age:
'Suitable sites for this age group are the anterolateral thighs (preferred) and the ventrogluteal areas. For the routine schedule where only two vaccines are required, one can be given in each thigh' (Department of Health 2017)
When three or four injectable vaccines are to be given at the same visit, the options are:

Two injections in the same anterolateral thigh, separated by at least 2.5 cm; further IM vaccines can be given in this way in the other thigh (injection number 3), or
One injection into each anterolateral thigh and one injection into each ventrogluteal area (only one injection should be given into each ventrogluteal area)

'There is insufficient evidence for or against having two immunisation providers administer vaccines at the same time rather than one vaccine after the other'
(Department of Health 2017)
'Children >12 months of age, adolescents and adults:
A single injection can be given into each deltoid muscle
When three or four IM vaccines are to be given to a child at the same visit, the options will depend on the muscle mass of the child's deltoid
If the deltoid mass is adequate, give a further injection into each deltoid muscle (separated by 2.5 cm from the initial injection site)
If the deltoid muscle mass is small:

Give further injections into either anterolateral thigh (2.5 cm apart if two vaccines are given in the same thigh), or
Give one injection into each ventrogluteal area.'
(Department of Health 2017)
[show_more more="Show References" less="Hide References" align="center" color="#808080″]
References:
Bendigo Health n. d., 'Alternatives to restraints', London Mallee Regional Dementia Management Strategy, Bendigo Health, viewed 27 April 2017, http://www.dementiamanagementstrategy.com/Pages/
Department of Health 2017, 'Administration of vaccines', The Australian Immunisation Handbook 10th Edition, Australian Government, Canberra, ACT, viewed 27 April 2017, http://www.immunise.health.gov.au/internet
[/show_more]