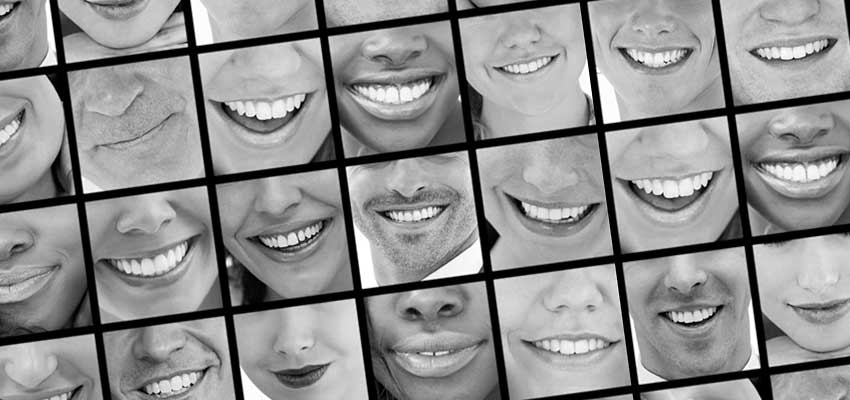 We know that good mouth care is important.
Not only for oral health reasons but also for general health and wellbeing – poor dental health has been linked to cancer, cardio-respiratory problems, and even dementia.
Although there is a concentrated drive on improving the oral health of the general population, we do need to consider the mouth care we're delivering to our patients – particularly those requiring long-term treatment, or are residents in aged-care facilities.
With an ageing population, we can see that our hospital inpatient population is also getting older, often with comorbidities and barriers to effective personal care. Terezakis et al. (2011) identified that the oral health of hospitalised patients around the world deteriorates, with an increase in the amount of dental plaque and gingival inflammation present over a period of 7 – 20 days.
For older patients' reliance on medication can worsen the problem of poor oral health care.
As our patients get older, their comorbidities increase and so does the number of medications needed to manage them. Many of these medications can cause negative oral effects, such as dry mouth and difficulty swallowing due to hyposalivation. Dry mouth is a known factor in plaque formation and gingivitis.
So, our older patients are already at higher risk of poor oral health before they become hospitalised or resident in a care facility. The fact that oral health tends to worsen from day 7 of a hospital stay means we must do all we can to provide better mouth care to our patients.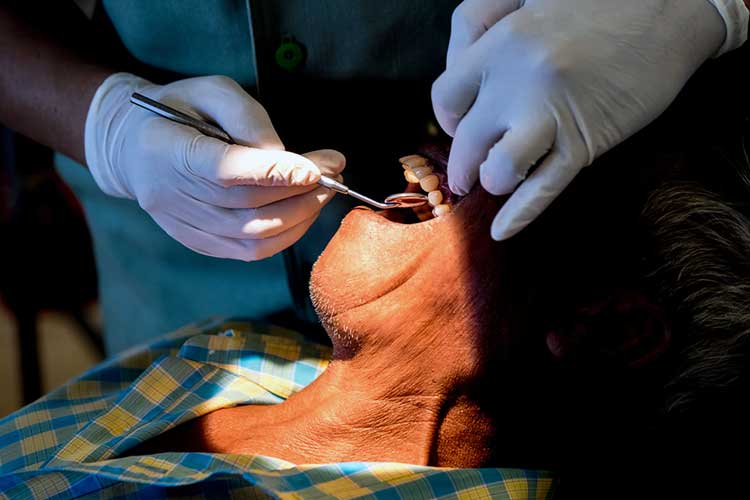 Barriers to Good Oral Health
Barriers to effective oral health care from a provider's perspective is that we often don't have the resources in terms of staff, time or even adequate training to be able to look after the oral health needs of our patients.
Few hospital trusts specifically mention dental care in their policies and training for elderly patients often focuses on the cleaning of dentures, whereas our aged population today are far likely to retain their natural teeth.
There can also be resistance to oral health care from the patient.
Nursing home residents with dementia can exhibit 'care-resistant behaviour' when presented with a caregiver attempting dental care (Jablonski et al. 2011). There's also a lack of dignity when someone else tries to clean your teeth, the last time most of us experienced that was as a small child.
Improving Oral Health
What's the best way for us as healthcare professionals to improve and care for the oral health of our patients?
Routine assessment of the oral health of every long-term patient or care resident is a priority.
Oral Health Assessment
A standardised assessment that all staff are trained on and are familiar with is essential. It should assess and record:
The lips – looking at colour, chapping, swelling or lumps
The tongue – looking at the colour, coating, any patches, swelling or ulcerated areas
Gums and tissues – colour, bleeding, loose teeth, gaps, swelling, patches
Saliva – how moist is the mouth? Does the patient complain of or notice dry mouth?
Natural teeth – broken, decayed, loose fillings, worn down, biting mismatch
Dentures – intact, worn down, are rough areas that can create ulcers?
Cleanliness – is it clean? Is there any tartar, staining, food debris? Bad breath?
Dental pain – any behavioural, verbal or physical signs of pain? Chewing on one side of the mouth or wincing when biting, for example
This assessment should be carried out and recorded upon admission (or as close as possible) and followed up on a frequent basis to ensure changes are monitored and can be treated in a timely manner.
Developing a personalised oral health care plan for each resident is a key step in ensuring that good mouth care is maintained.
Once problem areas have been identified, it's important to put a specific oral health care plan in place, ensuring that the necessary treatment is carried out and the overall health of the mouth can be improved.
Develop an Oral Health Care Plan
An effective oral health care plan will enable the findings of the assessment to be documented along with any barriers to effective hygiene – physical and behavioural. Obstacles might include mobility issues, dementia, lack of awareness, resistance to oral care, etc.
The plan should also include which tools and products are to be used to maintain good oral health care. These might include:
Type of toothbrush and frequency
Inter-dental care – flossing, inter-dental brushes, etc
Aids – mouth props, disclosing tablets, etc
Products – mouthwash, gum, mints, rinses
Toothpaste – type to be used (high fluoride, sensitive, etc)
Dry mouth products/medication
It's important to involve the patient as much as possible in the health plan and encourage involvement in their own oral health care as much as possible. It's crucial, therefore, that the following is also included:
Level of participation and whether any prompting might be required.
The best caregiver to work with that patient, along with the best time and place for the oral health care to be administered.
List any choices available to the patient (flavour of toothpaste, for example), rewards that will work, the desensitisation process to follow (if required), and anything else of relevance.
Professional dental care that has been carried out, advised and planned for.
It's important that patients and residents have access to professional dental care on a regular basis – including routine examinations
The final priority for any hospital or aged care facility is to ensure that training is appropriate for the oral needs of the patients and residents.
Everyone involved with the care of a patient should be aware of oral health care including the barriers, obstacles, effects of diet and medication, and how to perform the right care for the needs of each resident.
Yes, it means another policy that should be strictly adhered to but is one that can have a dramatic effect on the overall health of each patient when followed.
Good oral health care should become 'part and parcel' of life at your ward or care facility rather than something you 'have to do', and is a case where leading by example can go a long way.
References
Binks, C et al. 2017, 'Standardising the delivery of oral health care practice in hospitals', in Nursing Times, 23 October, viewed 30 January 2018, https://www.nursingtimes.net/roles/adult-nurses/standardising-the-delivery-of-oral-health-care-practice-in-hospitals/7021750.article
Burt, BA & Eklund, SA 1999, Dentistry, Dental Practice, and the Community, 5th edn. Philadelphia: Elsevier Saunders.
Dahm, TS, Bruhn, A & LeMaster, M 2015, 'Oral Care in the Long-Term Care of Older Patients: How Can the Dental Hygienist Meet the Need?', Journal of Dental Hygiene, vol. 89, no. 4, pp. 229-37, viewed 30 January 2018, http://jdh.adha.org/content/89/4/229.full
Gutkowski, S 2014, 'The biggest wound: oral health in long-term care residents', The Annals of Long-Term Care, viewed 30 January 2018, https://aaosh.org/biggest-wound-oral-health-long-term-care-residents/
Jablonski, RA, 2010, Examining Oral Health in Nursing Home Residents and Overcoming Mouth Care Resistive Behaviours, vol. 18, no. 1, pp. 21-6, viewed 30 January 2018, http://www.prevmed.org/wp-content/uploads/2013/09/5-gen_examining_oral_health_in_nursing_home_residents.pdf
Jablonski, R, Kolanowski, A, Therrien, B, Mahoney, EK, Kassab, C and Leslie DL 2011, 'Reducing care-resistant behaviors during oral hygiene in persons with dementia', BMC Oral Health, vol.11, p. 30, viewed 30 January 2018, https://www.ncbi.nlm.nih.gov/pmc/articles/PMC3231974/
McKeown, LL, Woodbeck, HH & Lloyd, M 2014, 'A journey to improve oral care with best practices in long-term care', Canadian Journal of Dental Hygiene, vol. 48, no. 2, pp. 57-62, https://www.cdha.ca/pdfs/profession/journal/2194.pdf
McNally, ME, Martin-Misener, R, Wyatt, CCL, McNeil, KP, Crowell, SJ, Matthews, DC & Clovis, JB 2012, 'Action Planning for Daily Mouth Care in Long-Term Care: The Brushing Up on Mouth Care Project,' Nursing Research and Practice, vol. 2012, viewed 30 January 2018, https://www.hindawi.com/journals/nrp/2012/368356/
Sparling, E, Lee, JC, Mineo, B, Viswanathan, B, Cheng, M, Center for Disabilities Studies & University of Delaware 2017, Oral Health Care Management: Recommendations for Long-Term Care Facilities, University of Delaware Newark, Delaware, viewed 30 January 2018, http://www.dhss.delaware.gov/dph/hsm/files/oralhealthcaremanagementreport.pdf
Stein VanArsdall, P & Aalboe, J 2016, 'Improving the oral health of long term care facility residents', The Journal of Multidisciplinary Care: Decisions in Dentistry, viewed 3o January 2018, http://decisionsindentistry.com/article/improving-oral-health-long-term-care-facility-residents/
Terezakis, E, Needleman, I, Kumar, N, Moles, D & Agudo, E 2011, 'The impact of hospitalization on oral health: a systematic review', Journal of Clinical Periodontology, vol. 38, no. 7, pp. 628-36, viewed 30 January 2018, https://www.ncbi.nlm.nih.gov/pubmed/21470276
Theobald, C 2013, 'Poor dental health may lead to Alzheimer's', in UCLan, University of Central Lancashire, viewed 30 January 2018, https://www.uclan.ac.uk/news/poor_dental_health_may_lead_to_alzheimers.php
Author
Zoe Hughes Visit
Zoe is a copywriter and blogger from the UK. Once working as an Operating Department Practitioner in a busy Orthopaedic theatre suite specialising in regional anaesthetic techniques, she now writes for the health industry due to disability. Using the education and skills learned as a nurse, along with the experience of being disabled – Zoe is passionate about helping health professionals communicate better with their patients via social media, blogs and websites. In her spare time, Zoe is a governor at her local primary school, and is writing a play about invisible illness.