Perceptions of Person-Centred Care
The outdated view of patients as passive recipients of care has given way to one where individuals are now seen as active participants and partners in healthcare, with a valuable perspective and a vested interest in ensuring safe care (Levett-Jones, Gilligan, Outram & Horton 2014). As such, the concept of person-centred care (PCC) has become fundamental to quality practice.
PCC is a holistic approach to healthcare that is grounded in a philosophy of personhood. Although there are varying definitions of PCC, each promotes self-determination, empowerment and a commitment to providing healthcare that is responsive to the needs and preferences of the individual. Person-centred health professionals acknowledge that each person is unique, has equal rights and worth, and brings their own experiences about their health and illness (Kitwood 1997).
Person-centred health professionals are ethical, open-minded, empathetic, respectful, and self-aware, with a profound sense of moral agency (Levett-Jones et al. 2014). However, while nurses and other health professionals typically value the ideal of person-centred care, it is often viewed as just another 'task' to accomplish within the constraints and demands of contemporary practice, and on top of an already burdensome workload. Factors such as stress, fatigue, burnout, lack of self-care, workload and unresolved personal issues can also impede nurses' capacity and motivation to practice in a person-centred way (Rossiter, Scott and Walton 2014).
The Imperative for Person-Centred Care
Recognition of PCC as a key dimension of safety and quality is changing the landscape of contemporary practice. A growing body of research has demonstrated that when health professionals, patients and families work in partnership, the quality and safety of healthcare rises, costs decrease, and provider and patient satisfaction increases (Levett-Jones et al. 2014).
When PCC is integrated throughout the system, there is a decrease in mortality rates (Meterko et al. 2010), length of stay (DiGioia, Greenhouse & Levison 2007), readmission rates (Boulding, Glickman, Manary, Schulman & Staelin 2011), and healthcare-acquired infections (Edgcumbe 2009). There is also an improvement in patient's adherence to treatment regimens (Meterko et al. 2010), patient anxiety and quality of life (Bauman, Fardy & Harris 2003).
When PCC is integrated throughout the system, there are several benefits, including:
Decreased mortality rates;
Shorter lengths of stay in hospital;
Decreased readmission rates;
Decreased risk of healthcare-acquired infections;
Improved functional capacity;
Patient and carer satisfaction;
Improved patient experience;
Improved adherence to treatment regimens;
Decreased patient anxiety; and
Increased patient trust.
(VIC DoH 2015; ACSQHC 2011)
In the two studies described below, the impact of PCC is further illustrated. Furthermore, the participants in both studies outline how PCC is not simply a task, but an ethos, a way of practicing, and a fundamental healthcare imperative.
How Patients Experience Person-Centred Care
Few studies have explored PCC from the perspective of patients. However, Sharp, McAllister and Broadbent (2015) interviewed 10 former patients, seeking to understand their experiences of PCC. Findings from this study identified that competent nursing care delivered compassionately resulted in personal, emotional and spiritual responses that were a catalyst for patient empowerment, and a positive outlook towards recovery.
Multiple examples of PCC were provided by the participants. One described how, when she was going through chemotherapy, her nurse recognised her fear and distress, leaned forward and whispered in her ear 'It's going to be okay, you can do this'. The patient said that this simple act had a significant, almost spiritual impact that really 'touched her soul'.
Another participant described how he required a nurse escort when having ECT and, while most of the nurses seemed indifferent to his needs, one offered comfort and clear explanations, and always saved him a sandwich so that he had something to eat upon return to the ward. This patient described how this nurse 'made him feel valued, respected, and like his recovery really mattered'.
In Sharp et al.'s study (2015), many of the participants viewed PCC as a privilege rather than an expectation. It was described as 'going the extra mile' and 'that little bit extra' that made them feel valued and validated. They explained that when nurses practiced in a person-centred way they felt like their care was so much more than 'just a series of tasks to be performed'.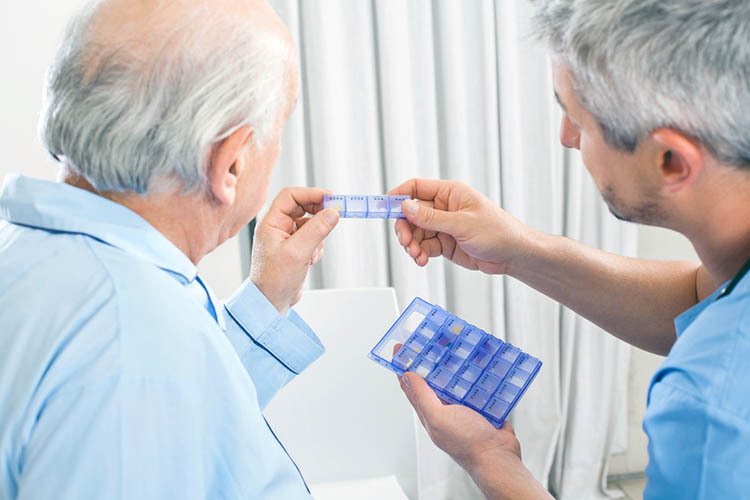 Person-Centred Care and Medication Safety
Using a qualitative design comprising observation and semi-structured interviews, Bolster and Manias (2010) examined how nurses and patients interact with each other during medication activities in an acute care environment with an underlying philosophy of PCC. 11 nurses and 16 patients were recruited. Nurse-patient interactions were observed and audio recorded for a period of two hours. 30-minute individual interviews with patients and nurses were then conducted.
The findings illustrated the nature of person-centred interactions between nurses and patients and how these interactions influenced medication safety.
The participating nurses described how PCC was about providing individualised care to patients, which relied upon getting to know patients' needs, expectations and preferences and establishing a therapeutic relationship. For example, one said: 'When you've established a stronger relationship with them … they put a lot of trust in you'. Most of the patients supported the nurses' views; they valued nurses whose care was individualised and empathic, and when the information they were provided about their medications was thorough, for example: 'I feel satisfied that they've explained everything and what it is for, and why'.
It was also apparent from the data that some nurse–patient interactions during medication activities focused on routines and getting the task finished rather than being person-centred. These interactions were based on nurses' perceptions of what was important for the patient and provided minimal opportunities for patient participation.
For example...
Nurse: 'So you've had all of your medications explained to you, and you are happy with that?'
Patient: 'Yeah.'
The authors concluded that PCC can enhance the quality of patient care and improve medication outcomes, however, they also noted PCC is inconsistently demonstrated in practice.
Conclusion
PCC is a holistic and genuine approach to healthcare that supports people to lead the life they want. The way that health professionals respond to patients' health issues, vulnerabilities, personalities and situations can have a significant and often long-lasting impact on their health and wellbeing. Patient-centred care has been demonstrated to positively influence patient outcomes and the degree of satisfaction that nurses derive from their work. However, as multiple studies indicate, for too many nurses PCC is still not a part of their routine practice.
References
Australian Commission on Safety and Quality in Health Care 2011, Patient-centred Care: Improving Quality and Safety Through Partnerships With Patients and Consumers, ACSQHC, viewed 10 December 2020, https://www.safetyandquality.gov.au/sites/default/files/migrated/PCC_Paper_August.pdf
Bolster, D & Manias, E 2010, 'Person-centred Interactions Between Nurses and Patients During Medication Activities in an Acute Hospital Setting: Qualitative Observation and Interview Study', International Journal of Nursing Studies, vol. 47, no. 2, pp. 154-65, https://pubmed.ncbi.nlm.nih.gov/19577752/
Kitwood, T 1997, Dementia Reconsidered: The Person Comes First, Open University Press, New York, NY.
Levett-Jones, T, Gilligan, C, Outram, S & Horton, G 2014, 'Key Attributes of 'Patient Safe' Communication', in T Levett-Jones (ed.), Critical Conversations for Patient Safety: An Essential Guide for Health Professionals, Pearson, Sydney.
Rossiter, R, Scott, R & Walton, CG 2014, 'Key Attributes of Therapeutic Communication', in T Levett-Jones (ed.), Critical Conversations for Patient Safety: An Essential Guide for Health Professionals, Pearson, Sydney.
Sharp, S, McAllister, M & Broadbent, M 2015, 'The Vital Blend of Clinical Competence and Compassion: How Patients Experience Person-centred Care', Contemporary Nurse, vol. 52, no. 2, pp. 300-12, https://pubmed.ncbi.nlm.nih.gov/26077823/
Victorian Department of Health 2015, Person Centred Practice and Functional Decline, VIC DoH, viewed 10 December 2020, https://www2.health.vic.gov.au/hospitals-and-health-services/patient-care/older-people/comm-topics/person-centred-practice/pcp-decline