Raw Stories from the COVID-19 Frontline
An Ausmed and The Nurse Break collaboration brings you this scrolling feed of stories from those on the frontline of the health service!
---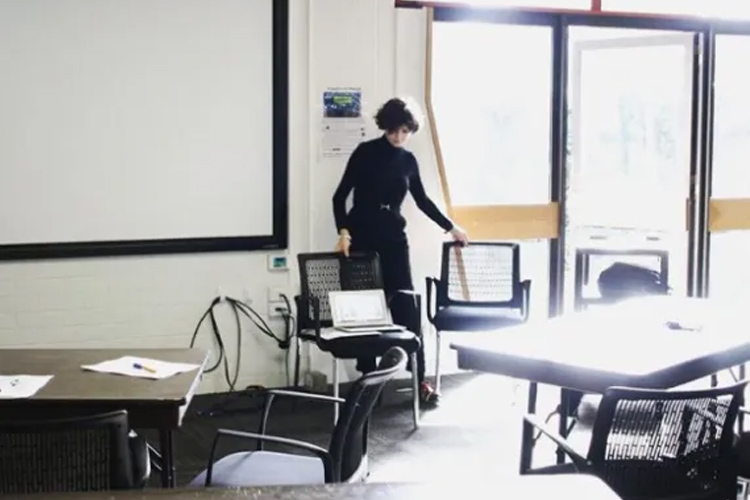 Annie works in a large public inpatient psychiatric unit.
With COVID-19 and social distancing, how have you changed how you provide your services to clients in the interim?
I am still going into work, however, now am limited to working on one floor. Many groups are now outside when the weather is suitable and, if not, in open areas. All materials have to be wiped down with disinfectant, general social distancing and hygiene practices are reminded at the start of sessions and, of course, need to be followed.
Family/loved ones are now not attending my creative studio due to visitor restrictions and limitations to group numbers. My day-to-day job role has differed quite a bit as I am picking up other roles that provide group work.
I try to keep the themes 'connection and safety' running through the day, so the day will probably start by checking in with the MDT via video chat online, the handovers are also using Microsoft Teams, then I have a coffee and chat in the morning with individuals, facilitate an art therapy group, check in with people after lunch, facilitate a mindful, gentle, physical exercise, and end the day with a mindful exercise. I am also offering staff weekly 'creative escapes' as it is hard to switch-off from work as it's in work, at home and everywhere.
COVID-19 STORY: ART PSYCHOTHERAPIST
---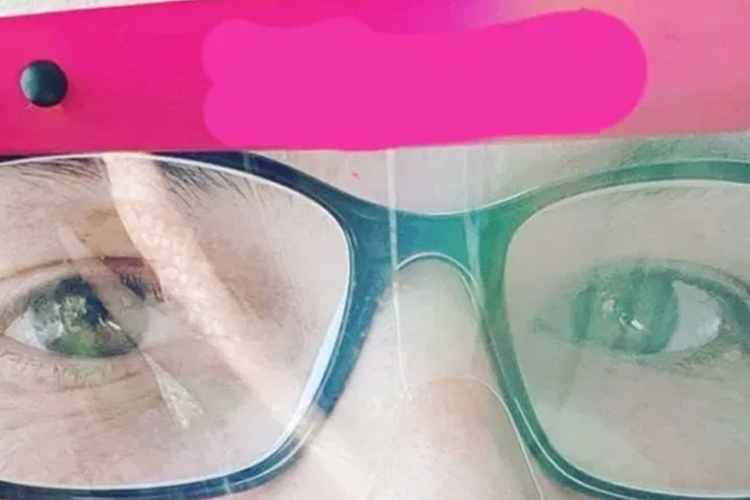 I was an ANUM on a general medical ward up until recently.
Then COVID-19 reared its head and I was suddenly an ANUM on a COVID-19 ward, where only confirmed or suspected COVID-19 patients were admitted.
Was I given a choice? No. Why? Because it's a pandemic. If I was given a choice, would I still be working on a COVID-19 ward? Well, yes, I'm not going to say no. I don't have any immunity issues, the only thing I suffer from is seasonal asthma.
We are in unprecedented times, never has anything like this been seen in our lifetimes. It's why I get angry when I see people flouting the lockdown rules, why I get angry when I see people being noncompliant, and thinking that it won't affect them. It's not about us. It's about the people that need protecting – the elderly, the immunosuppressed, the more susceptible and vulnerable people in our society.
It all hit on the weekend, as I held his hand as his eyes glazed over. Patient X was an elderly gentleman admitted for an increased SOB. Because of the SOB and being elderly, he matched the criteria for a COVID-19 swab, which is why he was on our ward, alone, no visitors allowed. He had been stable all morning, so when he requested a shower the primary nurse helped him into the bathroom then left him. She went back and he was on the toilet trying to, well you know. The emergency buzzer goes off.
It takes three loooooong minutes to get into the room because of DRSABC. 'D' for danger means making sure we apply PPE properly. We can't rush these things, even if it means the difference between life and death (a thing that does not sit well with me), but it is a sign of the times.
In the bathroom, Patient X sits on the toilet, still conscious, talking, saying he couldn't breathe. The primary nurse had given a neb, which I had to run to turn off as we were not equipped to be giving aerosol-generating medications in the ward we were in. I grabbed the patient's hand whilst asking for more oxygen, a hoist and more hands so that we could at least get the patient back to bed.
There weren't even enough of us to safely lower him to the floor. I asked the patient whether they had chest pain, he said no. Two minutes later he uttered, 'I have chest pain', then his eyes glazed over and he started Cheyne Stoking. By this stage the MET team had arrived, the patient was not for CPR. We lowered him onto the ground, and I was still holding his hand as he took his last breath, there on the bathroom floor.
It hit me, I started to cry. Like an ugly cry. This man, all alone, had not been able to have visitors because of policy. We are the people the patients see, or at least our eyes are. That was the hardest thing in my 15-year career that I have witnessed. The gravity of the situation is there for me now. I will never again take for granted the power of touch for a patient. We are the frontline. We are the faces they will be seeing, not the faces of loved ones.
And if you ever find yourself looking after COVID-19 patients, I implore you to take your time when in the room with them. Chat with the patient, smile with them, cry with them. We might just be that shining light that they need in this awful, horrible time.
Takeaways:
Patients are often isolated and we are the only contact with the outside world, so take that extra five minutes with them. Make the time.
If you find yourself with a patient who is dying, hold their hands because their loved ones can't.
I leave with these words: These are the eyes that greet you when you come to the hospital. If you are unfortunate enough to be tested for COVID-19, then these are the eyes of the healthcare workers who will be caring for you, either on COVID-19 ward or the intensive care unit. These eyes don't tell you much. But these eyes are smiling with you, laughing with you, crying with you, and are frustrated with and for you. These eyes understand you are at your most vulnerable and isolated.
If you don't want or need to see these eyes, I implore you to STAY. AT .HOME.
COVID-19 WARD ANUM
---
(Requested to be anonymous, Dr C is a Medical Registrar in Victoria.)
I'm sure a lot of people have had their plans for 2020 thrown out the window with the COVID-19 pandemic. In the setting of this global pandemic, all of us have got to continue our social distancing to #flattenthecurve.
Fortunately in Australia, our healthcare system is, broadly speaking, fairly robust, accessible and provides quality healthcare to anyone who stumbles into an emergency department or GP practice. And fortunately, we have also managed to flatten the curve sufficiently to avoid pushing our ICU beds and workload beyond maximal capability.
However, anyone who has worked in the public healthcare system knows how closely our hospitals run to capacity even without this coronavirus floating around. If you or a family member has ever had to wait long hours to see a doctor in 'emergency' or otherwise, it's because there are often other patients with acute, urgent medical issues requiring rapid life-saving assessment and treatment.
Long wait times often means prioritising different patients, and can result in people with broken limbs, mental health difficulties, gastro, pain, and many more non-life threatening complaints waiting hours for treatment. This COVID-19 pandemic will prove challenging to Australian healthcare, wait times will inevitably lengthen, hospital capacity will be put under pressure.
The challenges are great, but the difference between becoming Italy or South Korea is mostly in the hands (ideally washed) of the population. Public health is a team effort, understanding the symptoms, avoiding unnecessary social contact, working from home where possible, seeking medical attention when appropriate will also help prevent a future surge in cases and ease pressure on the public health system.
The differing political responses to the pandemic around the world have varying levels of effectiveness from a health and economic standpoint. Policy, laws and rules can only 'control' so much. In the end, the responsibility is in our collective hands. The end is not yet in sight unfortunately, there is still a long way to go in controlling the pandemic in terms of going back to the norm.
Stay safe.
Coronavirus: Policy, laws and rules can only 'control' so much, in the end, the responsibility is in our collective hands.
---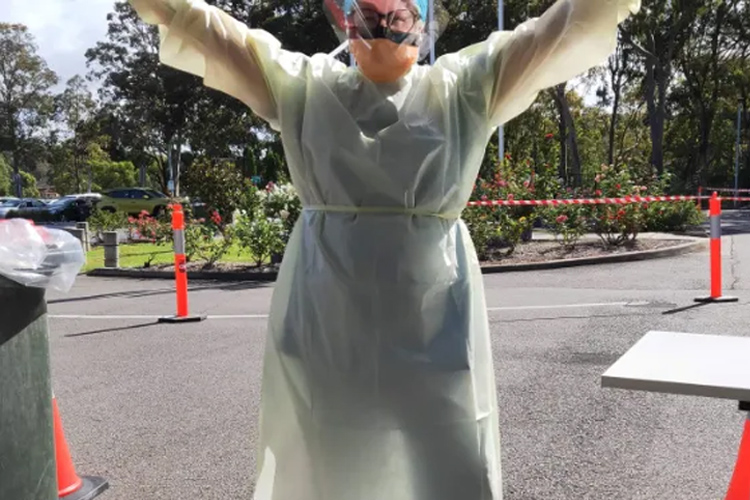 Methodically and with great mindfulness, I don my first pair of gloves.
We tried cytotoxic gloves for a few days. The longer cuffs ensured greater coverage, but now we've run out. Next is my impervious gown. I continue with my hair cover, then my face shield. It is the beginning of Autumn, but the sun still has bite. Before I have donned my second pair of gloves, I am perspiring. My buddy checks me, and I motion for the driver to come forward. They are playing with their phone, so I wait patiently, breathing deeply and listening to the rosellas chatter in the gumtrees.
'Good morning. Are you here to be swabbed? What's your name sir?' A cough and splutter, I strain to hear his husky voice.
'Please ensure your window is down and your engine is turned off.' I make my way behind the vehicle to the driver's side.
'In this bundle, there is a work certificate dated for two weeks from today, a list of contact phone numbers, and a COVID-19 Fact sheet. Have you ever been swabbed before?' He shakes his head. He is teary.
Something suppressed long ago stirs in me and I wonder if he's worried about dying this year.
'I am using one swab today. First, I will place it at the back of your throat, then it will go up your nose. It may make you want to gag; your eyes may water, and you may want to sneeze. If you do this, PLEASE ensure you do it in the opposite direction to me sir. Please remain looking ahead at all times.'
He reclines his seat and I approach the car window.
'Head back, mouth open, tongue out and say "ah".' He gags and coughs. 'Now I will place it in your nostril sir, please try not to scrunch your nose up.'
1, 2, 3, 4, 5, 6… he sneezes, once, twice, three times and I am now dealing with aerosolised COVID. I take two steps back, mindful not to be collected by the car rounding the garden to pick-up their relative from the entrance.
'You will be contacted in the next week with your results. You must now behave like you are infected and adhere to strict self-isolation rules. You must not leave your home until notified. There are harsh penalties in place for people who violate this order. Do you have any questions?' He wipes a tear away. He has no questions. 'You are fine to go sir, take care.' He thanks me and starts his engine.
I deposit the tube in the pathology bag and move to the bin, where I methodically doff my PPE. I'm thankful for the cool breeze despite the sun, as my perspiration dries, and I begin to don again.
COVID-19 ED Nurse / Drive-Through Clinic
---
As an ED nurse, my practice has altered slightly...
...as we have had to try and maintain social distancing. I am a kinesthetic type of person, so to not offer someone comfort - hold a hand or cuddle a crying child - has been somewhat difficult for me. Often my co-workers and I debrief – especially if we have experienced sadness, shock or a sudden traumatic event, and often that means a hug in our cohort. We are upskilling in a different emotional way!
To refrain physically means we have had to develop other ways to show our support and convey the warmth someone may require, and also apply this to patient-centred care. This has been a positive learning curve during COVID – amongst many other new skills we seem to be gaining at a rapid rate!
Anxiety and worry understandably exist amongst our team at this time, which brings a level of exhaustion with it. We have had to remain mindful and diligent with our PPE and my hospital has been remarkable in providing constant education and updates on how to handle this pandemic.
The negatives have been woeful, to say the least. I was verbally abused on my way to work at Coles. This occurred even before the measures were put in place to refrain from wearing a uniform to and from my workplace. Anxiety about COVID has manifested in aggression and fear amongst our community, which has been interesting at times. Just trying to smile my way through it!
People need to remember we have families too – some healthcare workers have elderly people at home to care for, immunocompromised people within their circle, and small children. Hugging my kids and turning my face away has become the new norm – but this is not forever!
COVID-19 ED RN
---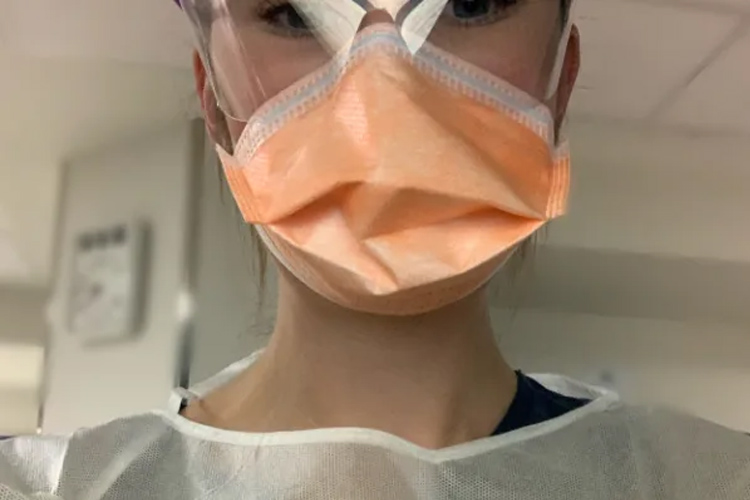 The COVID-19 pandemic has felt surreal for most of us ED nurses.
The ED crew quickly realised how often we touch our patients for good rapport and therapeutic relationships, which is no longer possible due to social distancing, and making physical contact with fellow colleagues for support within the team. We have had to become far more creative with social distancing, such as wearing fun coloured scrub caps for everyone to look at, engaging our patients in different ways other than physical contact and using verbal support - key to lifting each other up.
I have been so grateful for my team and the wonderful people surrounding me and all the extra efforts people are making. We as healthcare workers are much higher risk. Things like the fun scrub caps, people baking snacks, the boys doing MOVID-19 to lift our spirits and remain safe so they can get an adequate seal with their PPE, the zoo live feed on multiple screens in the department, it makes me feel so lucky to be in such a wonderful team!
There has been a huge culture shift with things like scrubs only within the department, social distancing in the tea room and adjusting to ever-changing protocols and plans as the pandemic progresses. The pandemic is bringing out the best in people in that there is SO much education and upskilling preparing for the influx of people getting to know plan after plan. I have also enjoyed just having a bit of quiet time outside of work. With no other commitments outside of work, life is going at a slower pace and it has been a great mental reset for me, allowing me to prepare for what is to come. The world of the unknown has been the hardest part to navigate: new policies and procedures coming in every day, change is always difficult but we are helping educate and assist each other.
My biggest wishes for the community:
Don't panic.
Utilise the COVID-19 hotline as often as you need for questions.
Don't wear gloves all day! Wash your hands, please!
Stay at home and please social distance.
Don't be afraid to ask questions, there are so many resources to get the answers you're looking for and to assist you to be as comfortable as possible through this process.
(PS: Don't steal personal protective equipment from hospitals – you are safe at home and we need it.)
To all my fellow healthcare workers, orderlies, security and the rest of our beautiful community.
Not knowing the answer right away is ok, don't be afraid to ask your seniors, utilise hotlines and ask your family. Look after yourself, eat, don't overwork and make sure you enjoy downtime while you can. We can all rely on each other for love and support! My personal advice is to avoid the news and watch the live feed of the pandas at the zoo. We have them going in our department 24/7, and boy it lifts your spirits!
Nurse within Major ED: Working Frontline with COVID-19
---
An Ausmed and The Nurse Break collaboration brings you this scrolling feed of stories from those on the frontline of the health service!
Want to be featured? Go HERE to learn more, or email submissions to thenursebreak@gmail.com.
We want you, whether you are a medical, paramedic or nursing student on placement, a ward clerk in a COVID-19 ward or ED, an ICU doctor, nurse, physiotherapist, social worker, paramedic, pathologist, orderly….an aged care support worker, a pharmacist, a dentist.
Author
Ausmed's Editorial team is committed to providing high-quality and thoroughly researched content to our readers, free of any commercial bias or conflict of interest. All articles are developed in consultation with healthcare professionals and peer reviewed where necessary, undergoing a yearly review to ensure all healthcare information is kept up to date. See Educator Profile