At any point during your career as a nurse, performing a SWOT analysis of your nursing career trajectory is both smart and prudent.
A SWOT analysis is a popular tool that allows you to take a deep dive into what makes you tick and how you perceive yourself. While this tool is generally used in the business world, it can actually be applied to any aspect of your life, including relationships, parenting or education.
What is a SWOT Analysis?
A SWOT Analysis consists of four parts:
S: Strengths
W: Weaknesses
O: Opportunities
T: Threats
When you sit down to perform a SWOT Analysis of your nursing career, you're going to be digging as far as you can for answers that may bring up even more questions, or perhaps provide some answers.
No tool can exclusively get you where you want to go, but a SWOT analysis is a great place to begin in pursuit of honesty and clarity about where to head next.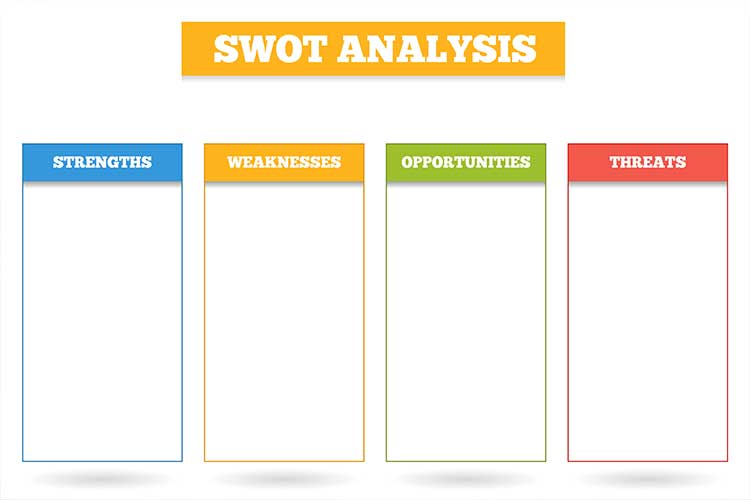 S = Start With Your Strengths
It's always good to begin on the positive side in order to bolster your self-confidence before journeying into the more challenging aspects of the analysis.
In terms of your strengths, consider the manual nursing tasks and skills that you excel at.
Next, examine your so-called 'soft skills', such as communication, emotional intelligence and relational intelligence.
Strengths may also come in the form of personal characteristics such as kindness, thoughtfulness or compassion.
Your personal experiences are also important in this context. For example, if you yourself have survived cancer and you work in oncology, this can be seen as a significant strength in terms of your ability to empathise with your patients.
If you're having trouble coming up with more than just a few strengths, ask a trusted colleague or friend to tell you what they perceive your strengths to be. You may be pleasantly surprised by their answers.
W = Examine Your Weaknesses
As a healthcare professional, the skills that are not so easy for you to perform would be obvious weaknesses.
Having said that, if the skills you're not proficient at aren't required for your current job, this may only become a weakness if you apply for a position for which those skills are crucial.
Your personality may be the source of some of your weaknesses, such as poor personal boundaries, difficulty separating your own feelings from your work, addiction, and so on.
Your weaknesses may stem from the fact that the work you're currently doing goes against your natural style.
For example, you may thrive on one-to-one interactions, but your current position places you in situations where you have very little face time with patients. Or conversely, you may thrive in groups and do poorly on your own. In this way, the autonomy of home care may be great for one nurse, and an absolute nightmare for another.
Finally, make sure to also assess your personal life for weak areas.
Are you practising good self-care? Do you get enough sleep? Are your family relationships turbulent and chaotic?
What happens outside of work can impact the quality of your nursing care.
O = Be Open to Opportunities
In terms of the SWOT analysis of the state of your nursing career, opportunities can be whatever constitutes positivity and forward movement.
For example, you may have just gotten married and you and your spouse have moved to a new city. The opportunities, in this case, are that you're now happily married, you have a loving partner who supports your professional and personal growth, and you're moving to a city with a high demand for nurses.
Your opportunities may be that you just reconnected with a former colleague who has influence in a very well-respected hospital where you'd like to work, or you just received certification in cardiac care and are now a more valuable candidate for a certain position.
Opportunities aren't just specific jobs; they are actually aspects of your life, relationships, career or even your living situation that seem to hold the potential to positively impact your nursing career.
T = Understand the Threats
The threats within a SWOT analysis have to do with the challenges that you're facing in relation to your ability to fulfil your own professional mission as a nurse.
For instance, a threat may be that your small community hospital is about to be purchased by a national hospital chain with a history of very poor management, and some employees are likely to be fired.
A threat from your personal life may be that your partner has asked for a divorce, your mother is now on hospice, or your health is compromised in a way that makes working a full-time job quite challenging.
Some threats are from the outside -like your hospital being bought - and some come from the inside in terms of your physical or mental health, or personal characteristics that make it difficult for you to hold a job or manage work relationships.
A Global Picture
A SWOT analysis is a global (if not fully comprehensive) snapshot of your perceptions of the state of your nursing career and your personal strengths and weaknesses.
If you're willing, perform a SWOT analysis every year or two and you'll have the chance to very clearly and empirically observe the ways in which your personal and professional lives have changed over time.
The SWOT is just another tool for self-reflection and personal growth. Use it to your advantage, and your career will benefit from your greatly increased self-knowledge.