Usually, when you think of virtual reality, you likely consider gaming or a distant image of what the future will look like.
Interestingly, however, virtual reality seems to be making its way into healthcare.
This opens up some truly amazing possibilities and innovations… and that's just in my mind alone.
See what kind of innovations or quality improvement ideas enter your mind after reading some of the research being done into virtual reality (VR) in healthcare.
Virtual Reality Environments in Education
Saxena et al. (2016) put forward a protocol for a review into the use of virtual reality environments (VRE – not to be confused with the other medical term VRE for vancomycin-resistant enterococci!) in the education of healthcare professionals.
The review highlighted that eLearning could utilise virtual reality environments.
Could this be a new and improved way to teach high-fidelity simulations for staff and students?
I can already picture using virtual reality environments for building teamwork to manage emergency responses, for example.
Is it possible that virtual reality environments could extinguish the need for simulation equipment and mannequins?
Likewise, could virtual reality environments be more environmentally friendly, psychologically safe for students and cost-effective?
It could be foreseen that expensive and non-reusable physical training equipment will one day be replaced by virtual equipment.
Piromchai et al. (2015) assert that virtual reality should be incorporated into learning for medical students and their surgical training., stating:/p>
'There is evidence to support the introduction of virtual reality into surgical training on the basis that the technical skills acquired by this method are as good as, or better than, those learnt through conventional training.'
(Piromchai et al. 2015)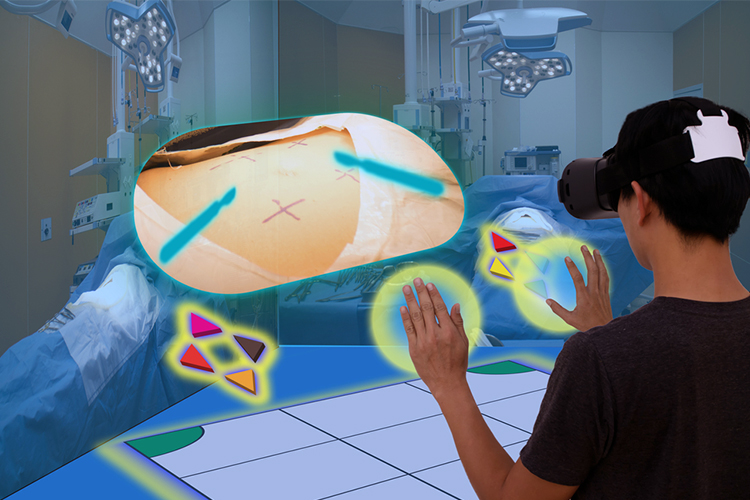 The study also acknowledged that further studies of higher quality are necessary to investigate whether 'non-technical skills' and client outcomes could be influenced by virtual reality training (Piromchai et al. 2015) .
In their study on the use of virtual reality for laparoscopic surgery training, Nagendran et al. (2013) found that virtual reality training appeared to cut operating times by 10 minutes, and possibly improved the surgical performance of the trainee participants.
The study raised a need for future research into whether/how virtual reality laparoscopic surgery training would affect clients and funders (Nagendran et al. 2013).
Similarly, Walsh et al. (2012) completed a systematic review regarding virtual reality for endoscopy training. They found that more high-quality studies are needed on this topic.
However, Walsh et al. (2012) did conclude that virtual reality simulations can help students practice their skills and knowledge in a safe situation.
Furthermore, when compared to no training, simulation-based training for endoscopies was associated with improved independence, time-management, 'depth of endoscope insertion', performance-rating, amount of errors and 'muscosal visualisation'.
VR in Treatment
Virtual reality use in healthcare does not need to stick solely in the realm of education.
For example, virtual reality was studied in terms of use for Parkinson's Disease rehabilitation exercises by Dockx et al. (2016), who stated:
'We found low-quality evidence of a positive effect of short-term VR exercise on step and stride length. VR and physiotherapy may have similar effects on gait, balance, and quality of life.'
(Dockx et al. 2016)
This quote makes it apparent that yet again, more high-quality research is necessary for virtual reality use in healthcare or for health conditions. Yet, there are evidently promising innovations stemming from virtual reality in the health industry.
Laver et al. (2015) studied virtual reality and interactive video-gaming use for bettering the function of the upper limbs and Activities of Daily Living (ADL).
It was concluded by the researchers that the intervention may be advantageous for these domains. However, it was unclear as to whether the intervention (virtual reality and interactive video-gaming) was effective for 'grip strength, gait speed or global motor function'.
Furthermore, it was not understood which components of the intervention were most useful, or whether the positive outcomes could be maintained long-term. Again, this information exemplifies areas in need for future research that health professionals may be interested in investigating.
Conclusion
Whilst this emerging field clearly needs further research (as to be expected with any new technology or innovation), it is undeniable that there are various ways to apply virtual reality to healthcare.
I for one would be interested in the potential for using virtual reality to create healthy ageing programs tailored to individual client needs.
What would you like to see virtual reality used for in healthcare? Discuss in the comments below!
References